Report Overview:
Analyzes rapidly changing transport market segments that address specific functions or customer applications.
Revenue-based market share for Compact Modular and Packet-OTN Equipment including forecast by region for all application categories
Tracks total shipments of line systems by ROADM size and amplifier band
Details 100G+ coherent and non-coherent WDM port shipments by speed and generation and includes equipment vendor market share
Please log in to see if you are subscribed to this report.
Report Information
Summary
This report tracks transport hardware shipments and market share for equipment dedicated to specific, rapidly changing applications. We collect shipment information and guidance directly from equipment companies as well as the supply chain each quarter, and if necessary estimate each company's shipments in each of the defined categories. Forecasts are based on expected spending and shipment trends for given applications on a regional basis.
Methodology
We classify some of the vendor revenue, line cards, and ports tracked in the Transport Hardware report according to the systems named in our vendor table. Companies may provide public guidance but in some cases we make estimates based on external sources, such as consumption of components from the supply chain.
Market Size and Share
Report includes quarterly revenue based market size and share for Compact Modular and Advanced Packet-OTN Switching segments, and detailed port based market size and for 100G+ WDM port shipments and optical line systems. Coherent port market share for equipment suppliers is also included.
Deliverables
Excel file with complete data set, PowerPoint summary, and Active Insight. Includes a detailed summary of market performance for the report period.
Forecast
5 Years with annual market size totals. No market share forecasts.
Historical Start Date
2014
Companies
Adtran, ADVA, Ciena, Cisco, Ekinops, Fiberhome, Fujitsu, Fujitsu NC, Huawei, Infinera, NEC, Neophotonics, Nokia, Padtec, Ribbon Communications, Xtera, ZTE
Last Published Report
September 12, 2023
Upcoming Publication Dates
December 19, 2023
March 31, 2024
June 15, 2024
September 15, 2024
| | | |
| --- | --- | --- |
| Name | Description | Regions |
| Compact Modular | Hardware and common equipment designed specifically for use in open & disaggregated hardware applications; typically a stackable 600mm chassis; includes some hardware sourced from contract manufacturers (whitebox) and component manufacturers sold directly to operators; includes common equipment sold in compact modular format for open line systems. | NA, EMEA, CALA, APAC |
| Packet-OTN Switching | Optical hardware configured with a centralized traffic-agnostic switch fabric; may also include layer-2 switching functions; includes distributed switching architectures that can support more than 2 cards; does not include line-card muxponders. | NA, EMEA, CALA, APAC |
| Optical Line Systems | Total market shipments of ROADM subsystem line cards each representing one degree of line system connection; total shipments classified by Small (support for 9 ports or fewer), Large (greater than 9 ports), and OXC (ROADM with optical backplane interconnection); shipments also classified by ROADM Spectrum (4.8THz C-Band, 4.8THz L-Band, 6THz C-Band, 6THz L-Band) | Worldwide |
| 100G+ Ports by Hardware Type | OEM market share and forecasted shipments of physical 100G+ WDM ports by speed and technology type. Classified as fixed 100G, 200G, 400G+, and 800G+ modules and pluggable 400ZRx (ZR/ZR+), 100ZR, & direct detect modules. | Worldwide |
| 100G+ Ports by Reach | Actual and forecasted shipments of 100G+ capacity by network segment, measured in 100G equivalents to account for 200G, 400G+, and 800G+ coherent port shipments. Classified as Edge (<100km), Metro (<600km), and Long Haul (>600km) | Worldwide |
Compact Modular
ADVA
Cloudconnect, Teraflex
Ciena
Waveserver, 6500 RLS
Cisco
NCS 1000
Fujitsu NC
1Finity
Huawei
OSN 902
Infinera
Cloud Xpress 1 & 2, XT-500/XT-3300, GX Series
Nokia
1830 PSI
ZTE
ZXONE 7000
Packet-OTN Switching
Ciena
6500, 5430
Cisco
NCS 4000
Fujitsu NC
CDS
Huawei
OSN 9800
Infinera
7100, mTera
Nokia
1830 PSS
ZTE
ZXONE 9700
Optical Line Systems
Ciena
6500, 6500RLS
Cisco
NCS 2000
Infinera
Flex ILS, GX Series
Nokia
1830 PSS, 1830 PSI-L, 1830-PSI-CL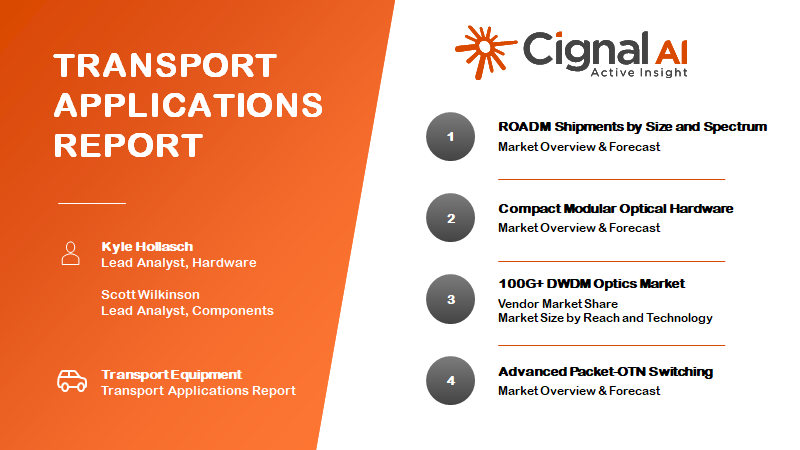 Download Real-time Excel File
Contains interim updates and company releases made since latest report publication.

Latest Files – Download the latest report publications
230927-Cignal-TRNEQ-AP-2Q23-Transport-Applications.pptx
230912-Cignal-TRNEQ-AP-2Q23-Transport-Applications.xlsx
230912-Cignal-TRNEQ-AP-2Q23-Transport-Applications.pdf
File archive contains all past report publications. Clients can access all files on or before their most recently purchased subscription.